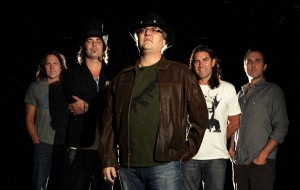 Seventeen years after scoring the Grammy Award winning, harmonica laced Billboard Top Ten breakthrough hit that came to define pop music in the mid-90s, Blues Traveler are still finding unique ways to ensure that they don't give their legion of worldwide fans the "Run-Around." On their instantly infectious, musically expansive 11th studio album and 429 Records/SLG debut, Suzie Cracks The Whip, they remain creatively focused while dramatically expanding their musical horizons upon celebrating their 25th anniversary as a band.
John Popper (vocals, harmonica), Chan Kinchla (guitars), Tad Kinchla (bass), Ben Wilson (keyboards) and Brendan Hill (drums, percussion) had a blast working for the first time ever with a handful of dynamic outside songwriting collaborators and the powerhouse production team of Sam Hollander and Dave "Sluggo" Katz, aka S*A*M and Sluggo–who have worked their studio magic for everyone from rap rock band Gym Class Heroes to pop princess Katy Perry.
The first questions on everyone's mind as Blues Traveler breaks ground on quarter century #2 is "Who is Suzie?" and "Where did she get the whip?"
Tongue firmly planted in cheek, Brendan Hill says, "That's Suzie Shinn, assistant engineer at Killingsworth Studios in Valley Village, California, who is truly the unsung hero on this project. She was awesome, doing it all from vacuuming up our messes at night to jumping into her chair to track our overdubs, and recording us in two rooms at the same time, vocals in one, rhythm section stuff in the other. One day, we had a photo shoot in back of the studio. John Popper, being a bull whip aficionado, was showing one to us and urging Suzie to try it. So we got a great pic of her swinging and cracking it. It was a fun moment that summed up our approach to the whole project, putting all our chips in yet not taking things too seriously. After playing together for so many years, we had another great opportunity to make music together, so we were thinking, 'Why not celebrate it?'"
Says John Popper: "Using the concept metaphorically, we weren't cracking the whip on the outside writers we collaborated with on the album as much as they were cracking it on us. Working with them really brought out incredibly creative ideas we didn't know we had in us. In the past, our concept (at least in our minds) had always been to be like some misguided homage to the Beatles and write and produce everything in house, but as the band progressed it felt like we were drawing from the same well over and over. I love these guys like my family, but after writing the same way with the same people for 25 years, it was good to find a new outlet and take a different approach. Likewise, S*A*M and Sluggo helped remind us about what was cool about Blues Traveler in the first place. It's easy to forget what's cool about yourself after so many years of being you."
One of the ways Blues Traveler shares the joy on Suzie Cracks The Whip is by giving Popper, the band's poet in chief, an augmentation on the songwriting front, bouncing around song ideas with other writers. Hill describes their typical writing process on most of their albums as an insular, closed-door process of wood shedding amidst themselves. This time, they trekked to Austin, Texas, one of their favorite cities, piled into a studio located in a barn on Red Horse Ranch and narrowed down to a list of five collaborators—most of which brought in rough versions of two or three songs to work from. The formidable A-list yielded impressive material that created the foundation for what Chan Kinchla unabashedly calls "the best all-around record we've made since Four. Just like the recording later in L.A., it was a loose fun atmosphere, like a songwriting party. That energy shines through in the music."
Longtime band friend Aaron Beavers, frontman for the Austin based band, Shurman, contributed the infectious sing-along opener "You Don't Have To Love Me" and the blues-rock romp "Big City Girls," a co-write with Popper, Tad Kinchla and Wilson. Popper says of the opening track, "Having worked with Aaron before, it is so rewarding to be on another's track as just a vocalist. It allows you to put yourself completely into the emotional state of the writer, which I find thrilling and don't often get to do." Renowned Canadian singer-songwriter Ron Sexsmith co-penned four tunes with various members of the band: the jangling and heartfelt blues-pop rocker "Recognize My Friend" (music by Hill, words by Sexsmith and Popper), the Santana-flavored, organ fired "Devil in the Details" (music by Chan Kinchla, words by Sexsmith and Popper), the exuberantly optimistic jam "Things Are Looking Up" (music by Tad Kinchla, words by Sexsmith and Popper) and the rustic, front porch folksy "Love Is Everything (That I Describe)" (music by Sexsmith, words by Popper and Sexsmith). Popper explained, "For someone we'd never met, Ron seemed to get us instantly."
Blues Traveler has a long history with Spin Doctors frontman Chris Barron, who went to high school with Popper in Princeton and originally played with the Blues Traveler singer in a group called Trucking Company. On Suzie Cracks The Whip, Barron contributes the easy jangling, Springsteenesque pop-rock gem "Saving Grace," which includes the unforgettable lines, "I'm tired of songs about angels/I could use a punch in the face." Blues Traveler also invited to the barn singer-songwriter and multi-instrumentalist Carrie Rodriguez, who wrote the music and co-wrote the lyrics (with Popper) on the country influenced power pop tune "I Don't Wanna Go." Popper explains, "I actually caught a video of Carrie on that hip Austin music channel. This woke me from my sleep and was brilliant. I knew instantly that I had to meet and work with her." The song features harmony vocals by American Idol Season 9 finalist Crystal Bowersox. These outside contributions set wonderful contrast to the tracks that Blues Traveler created "in-house" including the playful, reggae tinged "All Things Are Possible" (music by Popper and Chandler Kinchla, words by Popper), Ben Wilson's country-blues-pop tune "Cover Me" and two songs whose soul is classic John Popper, the stomping warning "Nobody Fall In Love With Me" and the heartbreakingly poetic piano-vocal closer "Cara Let The Moon," which Popper claims is the best song he's written in the past decade.
Says Popper: "For me, the spirit of collaboration Blues Traveler has achieved on Suzie Cracks The Whip really began with the work I did with other writers on the solo project I released last year, John Popper & The Duskray Troubadours. While those writers were only close friends that I had known and trusted for many years, Blues Traveler took this approach further by collaborating with writers we've never worked with before such as Rodriguez, Sexsmith, not to mention Alejandro Escovedo (who has a great b-side), as well as tried and true friends Barron, Beavers, as well as Jono Manson (who also has a great b-side). These experiences triggered things in all of us that we didn't know we could do. What was rewarding for me having just experienced this in my solo project, was seeing how differently Blues Traveler responded to the new process. Being such a tightly knit musical machine, the results took us in a surprising and invigorating direction. In my mind, this was the natural evolution. In the mind of Blues Traveler, it was nothing short of an explosive renaissance. We were all pushed in new and exciting directions. It created variety and a narrative that was fresh and offered contrast to the songs we wrote on our own."
Once the tunes were written, developing Suzie Cracks The Whip under the guidance of S*A*M and Sluggo in Los Angeles proved to be another stroke of genius. Though Blues Traveler had never worked with the formidable team before, the band learned that years ago when Sam Hollander first moved to New York, a friend took him to see Blues Traveler at a dive bar called Nightingale's – one of his first notable musical experiences in NYC. Chan Kinchla says, "This was around the time when things were really starting to happen for us in New York. We were just a band of ambitious kids then, but we had something going. It's so cool that Sam got to see us then."
Says Popper: "Working with S*A*M and Sluggo was like being in a Tarantino movie, where the vibe is the primary thing and the focus is on the importance of telling a story. Sam Hollander told us he saw Blues Traveler as three unique disciplines working together—my approach, alongside Chan doing his own thing, and then the rhythm section led by Brendan."
Wilson adds, "Sam is sort of our same age but he's more centered into the contemporary rock scene with some younger bands. He's really attuned to songwriting for today's artists. One of the overriding themes of the recording process was him wondering at certain points why we wanted to slow things down. He urged us to work fast and keep the energy up, but gave us a lot of leeway. The way we approached the writing process this time meant we could come to Sam and Dave with 11 amazing songs right off the bat rather than a handful of good tunes and a bunch of lesser ones to pick from. One beneficial result of this speed was a surprising duet performance featuring Bowersox, on the track, "I Don't Wanna Go." We literally had 24 hours to find someone to sing. We knew that the song would be better as a duet. Crystal delivered the song (thanks to Jono Manson at his New Mexico studio) in less than that time. She knocked it out of the park because to put it simply, she had no time to do anything else. The take was utterly fantastic."
Tad Kinchla chimes in: "We brought a cool new energy to the entire production, from writing to laying it down in the studio. Having us all in the room with the other writers meant we were open to fresh ideas and molding them into the parts each of us play best. Every band has its typical 'go to' melodies but this time we wanted to push out of that box and take the pressure off. The good news is that where it started and ended up, it still sounds like Blues Traveler."
Blues Traveler trademark sound was electrifying fans around the world, to the tune of approximately 30 million people and upwards of 6,000 live shows over the band's 25 year history. Beyond the commercial success of their recordings, which have sold in excess of 13 million combined units worldwide, Blues Traveler has long been known for the extensive use of segues, multiple song mash-ups and extensive instrumental jams in their live performances.
Blues Traveler's road to posterity moved from the burbs of Jersey to NYC in the late '80s, where they became part of a jam-band scene and shared bills with groups like Spin Doctors and Phish, founding the Horde festival and pioneering the subsequent movement of neo-hippie jam music. Represented early on by Bill Graham and son David, Blues Traveler's live reputation led to a deal with A&M Records; their 1990 self-titled debut eventually going gold simultaneously with the album Four. While putting out a string of popular albums in the 90s, the band endured its share of mettle-testing adversity, from Popper's near fatal motorcycle accident (he recorded and toured while in a wheelchair for two years) and the tragic loss in 1999 of founding bassist Bobby Sheehan at the age of 31. True to its name, the band traveled on, with Tad Kinchla on bass and Ben Wilson on keyboards, both being in the band as long as Sheehan.
The band has kept up an average touring pace of 250 shows per year, whether there has been a new release attached to the jaunt or not. Their studio output during this time included Truth Be Told (2003), Bastardos! (2005), the all-acoustic covers album Cover Yourself (2007) and North Hollywood Shootout (2008). Blues Traveler launched 2012 with a joyfully exhaustive look back on a quarter century since they first gathered in a Princeton basement and laid the foundation for a hybrid vibe that draws from blues-rock, psychedelic rock, folk rock, soul and Southern Rock. As one of their more notable EPs states, they are likely, for all intents and purposes, on tour forever.