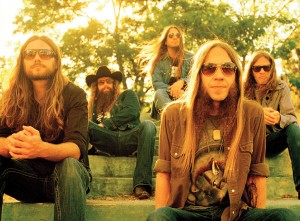 The members of Southern Rock quintet Blackberry Smoke are no strangers to hard work. Playing up to 250 dates each year, the guys are on the road more often than not, and they've seen tangible results of their labor. The band has toured with and befriended idols such as The Marshall Tucker Band, ZZ Top (with Billy Gibbons jamming with the band on a Florida stop), Lynyrd Skynyrd and George Jones. The band was even asked to play for Jones on his 80th birthday, not long after the country legend turned in a guest appearance on the band's sophomore album. They've toured Europe thrice over, and had their songs featured in video games (EA Sports' NASCAR 08) and films (Swing Vote), as well.
Mixing elements of gospel, bluegrass, arena rock, soul and more than a touch of outlaw country, Blackberry Smoke has earned a passionate fanbase that continues to grow as the band itself evolves. The band is as blue collar as the bandanas its members wear.
"Our fanbase is as organic as you can get," says drummer Brit Turner. "Each fan has been won by live performance or good old word of mouth."
In a little more than a decade together, Blackberry Smoke has released three full-length albums—including 2012's The Whippoorwill, the band's first for country megastar Zac Brown's Southern Ground label—two EPs and a live DVD, Live at the Georgia Theatre, which serves as the perfect showcase for the band's raucous, rockin' good-times-for-all take on rock 'n' roll. A chunk of the DVD's concert footage has aired numerous times on Palladia, and the band also shot a DirecTV concert that has aired countless times.
Brit, along with singer and guitarist Charlie Starr, bassist and vocalist Richard Turner, guitarist and vocalist Paul Jackson and keyboardist Brandon Still, have slugged it out on the road for more than a decade, but now regularly sell out headline appearances across the country and overseas. The band's audience, Brit says, feels like more than fans, which is appropriate given that their families are their biggest supporters. (A word to the wise: hitting on the pretty ladies in the front row might get you decked.)
Though these road dogs rarely have downtime, they recently managed to carve out enough time to record their newest batch of songs for The Whippoorwill, an album that serves as a platform for smart, battle-tested songwriting and for the band's ability to leave audiences breathless.
Despite the additional resources at its fingertips, the band decided that The Whippoorwill would be largely an in-house affair—its own songs, done its own way. Consequently, the band is more excited for this album's release than any effort thus far.
"I remember not being able to sleep well at night when we were making this new album," Charlie recalls. "I was so excited about which songs we were going to cut the next day. After it's done and we can hold it in our hands and be proud of it we know that there's another one that will have to be made in the not too distant future, but it feels really good to have this one finished; we're all really proud of it."
With Zac Brown and the entire Southern Ground team behind them, Charlie and the boys are experiencing all the benefits of life on a larger label. For an already busy band, business is booming.
"The only time we stop or take any time off is when someone's wife has a baby," Charlie adds, chuckling. "So, we've had to come up with a fictitious band member whose fictitious wife is having a fictitious baby."
Yet even though they have a wealth of experience under their belts, with the release of The Whippoorwill, the guys find themselves in uncharted territory.
"We've never done an album and actually planned a tour around it," Charlie confesses. "It's always been 'tour constantly and whenever the album is done, it comes out.' It's a new thing for us to actually plan this far ahead."
And while the recording process for The Whippoorwill might have afforded the band a few additional luxuries—"It was strange being able to go into a nice recording studio without having to not pay ourselves for awhile to get the money to do it," Brit says—the band still found itself backs against the wall. Fortunately, that's exactly where Blackberry Smoke seems to thrive.
"For all the planning ahead, we still had to get it done in four-and-a-half days, so it's not like we had time to stretch out and find the most comfortable chair in the studio," Charlie says. "In a perfect world, I'd like to take a little bit more time to record, but it's not possible until they add more hours in the day and more days in the week. We're used to doing it that way anyway."
Regardless of whatever pressures the band might have been under while the red light was on in the studio, that stress isn't evident on any of The Whippoorwill's 13 tracks. For example, album opener, "Six Ways to Sunday," is a footstomping tune that mirrors the song's carefree attitude, and could be mistaken for an old Motown track at times. At the same time, the title track has the effortless blues approach of '70s-era Pink Floyd, but with more grease. Nothing feels forced.
Indeed, the band's history together gives them a natural chemistry when writing the songs that could easily find a home with a diverse set of audiences.
Straddling the line between paying homage to one's heroes and blatant theft is a tricky business, but it's a divide that the members of Blackberry Smoke traverse with ease. The band invites a few comparisons to the hallowed forefathers of Skynyrd, but don't expect to hear the same worn out clichés in their songs that every other band with country, pop or rock leanings have already espoused.
"We're not in the business of writing the same song over and over and over," Charlie says bluntly.
Speaking of "over and over," at many points it would have been easy for these blue-collar musicians to get tired of bashing out song after song in distant dives and hang it up, get straight jobs and rock out as weekend warriors—if at all. But despite some lean years, they kept building an audience and keeping up with wives, children and girlfriends from long distances. So what's kept them so passionate?
As Brit Turner emphasizes, it's not necessarily dreams of stardom. It's simply the love of the game. "We love it or we wouldn't do it."