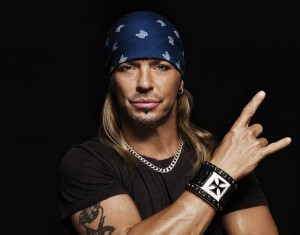 As a rock star, reality star, spokesperson, businessman, and philanthropist, Bret Michaels does more jobs in a single day than most people do in an entire lifetime. Depending on the hour of the day he's a cultural icon, a rock god, an entrepreneur, a TV star, a father, the face of the American Diabetes Association, a supercross enthusiast, solo artist, Poison frontman, and a generous donor to a myriad of charitable causes.
Michaels first rose to fame as the frontman of Poison. As one of rock's most iconic and enduring bands, Poison defined the fast, gritty, and glamorous rock 'n' roll scene. Since the band's beginning, Poison has achieved massive success- releasing eight studio albums, four live albums, and selling over 30 million records worldwide and 16.5 million records in the U.S. alone.
The band has charted 10 singles in the Top 40 on Billboard's Hot 100 including the number-one single, "Every Rose Has It's Thorn." Twenty-five years after their debut, Poison is still recording music and performing together.
Bret Michaels' solo career has been equally successful: his most recent solo album, "Custom Built," released in July of 2010, topped the charts, reaching #1 on Billboard's Hard Rock list. His current solo tour, "Get Your Rock On" is selling out arenas across the country and his forthcoming solo album of the same name will be released this summer.
Michaels has achieved stunning success in the realm of reality TV as well. His "Rock of Love" television series is one of the most successful in VH1′s history. VH1 and Bret Michaels teamed up again for his family-oriented 2010 docu-series "Bret Michaels: Life As I Know It." He went head to head with some of the brightest minds in business on Donald Trump's NBC hit, "Celebrity Apprentice" and went on to "Trump" the competition with his Trop-A-Rocka Snapple drink.
Michaels' Trop-a-Rocka Diet Snapple proved to be a fan-favorite- so much so that fans rallied to continue its distribution. He is thrilled to be continuing his partnership with Snapple, remarking, "When I created my Diet Snapple Trop-A-Rocka Tea, I made it my mission to design the best-tasting diet drink on earth – made from the best stuff on earth. Creating Diet Snapple Trop-A-Rocka Tea and donating $250,000 to Diabetes research was just the beginning. I'm thrilled that Snapple will be making Trop-A-Rocka a part of its permanent offering."
Philanthropy remains an important facet of Michaels' career. A lifelong diabetic, he partnered with the American Diabetes Association in 2010, acting as a spokesperson and sponsor. Beyond his role as spokesperson Michaels has gone on to help Ford raise an additional $400,000 for diabetes research at the Barrett-Jackson auto auction this past February as well as donating numerous items for auction for Diabetes related events.
Michaels' charitable outreach extends far beyond diabetes, however. Rocking out and giving back go hand in hand for Michaels, who supports a diverse array of charities and causes. In March 2011, he performed at Muhammad Ali's Celebrity Fight Night in support of the Muhammad Ali Foundation, which gives to those suffering from Parkinson's disease. Michaels was so touched by the event and the cause that he donated $20,000 of his own money to the Muhammad Ali Foundation to help heal those afflicted by Parkinson's. Michaels took on the role of fundraiser as well, raising more than $200,000 for the Barrow Brain Tumor Foundation, with a star-studded dinner in his own home. He is also a supporter of the Camelot Therapeutic ranch and sponsors a horse with his family. The ranch provides services at no charge to adults and children with disabilities.
Michaels continues to stretch himself and challenge himself to take on new projects in music, business, and beyond. He recently partnered with legendary guitar company, Dean Guitars, to design his first ever signature Bret Michaels series. Michaels calls Dean Guitars "the only guitars that can keep up with me, holding up tour after tour." He is also actively involved in the world of extreme sports. He created and awarded the first annual Bret Michaels Rock Hard, Ride Hard Award for supercross – a cash prize for the toughest and most tenacious supercross rider of the season – on May 7, 2011. The award will be given out again in 2012.
Michaels has teamed with PetSmart for the "Pet's Rock" collection, which will debut in 2012. "As a dedicated pet owners myself, this is a natural partnership for me, and I can't wait to unveil the collection," Michaels said. "I know my own pets rock, and I wanted to design a line of pet products every bit as fun and cool as they are."
Also in 2012, Michaels is teaming up with Reader's Digest for their We Hear You America campaign – the popular national, grassroots initiative that serves as a catalyst to empower Americans to help their local communities by casting votes at ReadersDigest.com on behalf of their hometowns. Bret Michaels is the perfect partner for this campaign because he brings his experiences as a survivor, a rocker, a father, a philanthropist, and an American who has traveled this great land by tour bus from coast-to-coast. "As a musician and an artist, I wanted to get involved in the We Hear You America campaign because it's not only about inspiring people to improve their lives and their communities, but about giving everyone a voice," says Michaels. "It starts with all of you. Go to ReadersDigest.com every day to vote for your hometown. Your votes, joined with others in your community, could get your hometown funds and promotional support from the We Hear You America campaign."
Bret Michaels may have been in spotlight for decades, but he is certainly showing no signs of slowing down.