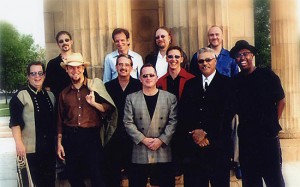 Started in 1995 as a side project for several seasoned veterans of
the Columbus music scene, the Hoo Doo Soul Band shows no signs of slowing down. Hoo Doo is well known for putting their own twist on the standards and introducing audiences to unfamiliar funky gems with style.
Face it, doing justice to a song made famous by Al Green or Earth, Wind and Fire is a daunting task, but the Hoodoo Soul Band manages to perform such classics with grace and plenty of joyful energy. The band has received Columbus Music Awards for both Best Cover Band and Best Live Performance. Whether the ensemble plays old R&B or some fine Latin rhythm, this is one of a handful of Columbus bands that manages to merge outstanding musicianship with all-out fun entertainment.