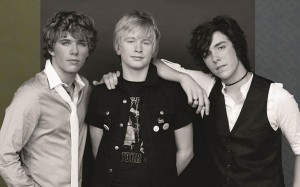 For the first time in Billboard history, an UNSIGNED teen rock band with NO RADIO play topped Billboard's 2011 HOT 100 Physical CD Singles Sales Chart with their first THREE singles charting at #1, #3 and #4 positions.
The band's first single, "SiCK," released on 11.1.10, debuted at #1 in its first week.  According to Billboard, "SiCK" sold more physical CD singles in 2 weeks than all other artists for the entire year of 2010.  The band's first single sold over 140,000+ in less than 6 weeks, making New Hollow #1 in Physical CD Single Sales for all of 2010. New Hollow's second single; "Boyfriend" also debuted at #1 during its first week of release on 1.23.11 and sold roughly the same amount as the first single "SiCK", but in even less time! Together the first two singles have sold approximately 300,000 copies collectively. Fresh off the success of their record breaking chart debut, New Hollow, released their third single, "Airplanes", on 5.26.11, topping Billboard's HOT 100 Physical CD Singles Sales Chart, making it THREE in a row!
A fresh new twist to a classic rock sound — that's what the new teen pop-rock band, New Hollow delivers! The three band members, Mick Clouse, 17 (lead vocal, guitar, keyboard), Evan West, 17 (lead vocal, keyboard, bass, guitar), Chad Blashford, 16 (drums, back-up vocal), are all self-taught musicians and vocalists. In addition to being skilled at multiple instruments, they also write their own music.
With two strong lead vocalists and an equally strong backup singer who occasionally pops in an unexpected rap overlay, New Hollow will excite you with their melodic harmonies and unique approach. They have brought back somewhat of a classic rock approach and merged it with their original flare. Their sound has been referred to as fresh, pop rock with a retro flare!
New Hollow has a sound that is appealing to everyone — both genders, and seemingly all generations. Their sound is authentic, not manufactured, and their song lyrics are relatable.
When it comes to writing, they find inspiration from their own life experiences. "It's our way of expressing ourselves. We hope that others can relate through the stories written in our songs," says Mick.  Chad remarks, "We like playing acoustically because then everyone knows we can really sing, but we also like playing electric because we love the energy." Whether hearing them perform live, acoustic or electric, New Hollow is infectious. "We just want to play for anyone who will listen. We want to write music that resonates and stands the test of time," states Evan.
The band's first CD single "SiCK" (was written when the boys were 13 and 14), is a self-penned teenage story of unrequited love from a guy's point of view. Specifically, it addresses the angst that a teen boy feels when he is crushing on a girl but she doesn't even know he exists. "Boyfriend", the band's second single, (was written when they boys were 14 and 15), is about the unfortunate challenges of reality, related to a long distance relationship.  Their third single, "Airplanes" is a cover of the original B.O.B. song featuring Hayley Williams from Paramore and highlights the unique rapping abilities of the drummer, Chad.  New Hollow's singles "SiCK", Boyfriend" and "Airplanes" are available on iTunes and in Justice Stores nationwide and through all digital retailers.  The boys' latest single, "She Ain't You", is yet to be released to iTunes.
Their name, New Hollow, comes from the merging of "New" from their hometown of New Albany, with "Hollow" from a street sign they passed during a trip to Cleveland.  Although the boys are all from different states, Mick by way of Dallas and New York City, Evan from Detroit, and Chad from the Los Angeles area, by some strange twist of fate they ended up attending the same school in New Albany, a small suburb of Columbus, Ohio.
Looking back, the band has come a long way in a short amount of time. In 2010, New Hollow's National Anthem performance on Thanksgiving Day at Cowboy Stadium before the Dallas-New Orleans game marked a milestone in the young teens' career, making it their first television appearance ever in front of 93,000+ fans and viewed by 30 million nationwide. The band was also selected as the opening act for Train at Clear Channel's WNCI 97.9 Jingle Ball; the nation's leading top 40 Station in the Midwest. Furthermore, New Hollow was named the 2011 Spokespersons for the Salvation Army and was the Headlining Act for their 2010 Rock the Red Kettle Concert.
As awareness of the band continues to grow, in 2011 they were featured on Fox and NBC News, The CW and Access Hollywood.  The band also starred in their very first TV commercial for ECOT (Electronic Classroom of Tomorrow). In Spring 2011 they were asked to perform for many charitable and corporate events including the annual galas for both – Make-A-Wish Foundation and the Juvenile Diabetes Research Foundation. They were also honored to perform at the Ohio Governor's Inauguration Day Concert making history as the first ever rock band invited to perform in the State Capitol Building. In July 2011 New Hollow was featured in a cover story for the Columbus Monthly Magazine.  Last summer, the band toured extensively on an acoustic meet and greet tour playing for thousands of New "Hollowers". The group also hit the road as one of the opening bands for the "LG Ones To Watch — Presents 100 Monkeys" tour, as well as opening for Big Time Rush at the 2011 Ohio State Fair, State Fair of West Virginia, and the Allen County Fair in Lima, Ohio and the New Albany Classic Event.
In 2012 they kicked off a school tour delivering their anti–bullying message and have recently been invited to join Defeat the Label in their nationwide fight against bullying. They headlined a concert for "A Kid Again" Charity, which serves kids with life-threatening illnesses.
In Spring 2012, they headlined several sold out concerts in the Midwest.