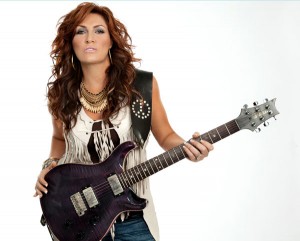 With the release of her "Unmistakable" trilogy, Jo Dee Messina stepped firmly into the front ranks of country singers with staying power. A collection that displays both her songwriting prowess and her abilities as a co producer, Unmistakable is above all a showcase for one of the genre's most remarkable and distinctive voices.
This last year, she has taken all of her experiences, her enthusiasm and most importantly, her songs, on a unique cross-country "Music Room Series Tour." Modeled after the music room in her home, where she sings, writes and rehearses, the tour includes a simple stage with piano and a couple of backing musicians. Each show is distinctive in that Jo Dee plays songs new and old, takes requests, answers questions and gives fans a new insight to the stories behind the hits.
That irrepressible spirit of country music has been in Jo Dee's DNA since her childhood in Holliston, Massachusetts. She was first attracted to country in the music of Alabama and Hank Jr. as well as Loretta Lynn, Dolly Parton and Reba McEntire. She appeared in local plays and musicals as a girl, and by 16 she had a band that included her sister on bass and her brother on drums. She performed in clubs throughout the Northeast, booking shows and hauling gear, with a work ethic she inherited from her single-parent mother.
At 19, she loaded a car and headed to Nashville, where she entered talent contests and got a regular gig on Nashville's "Live at Libby's" radio show. Producer Byron Gallimore heard her and introduced her to another struggling newcomer named Tim McGraw. Jo Dee was signed, then dropped, by one major label before, at a backstage meeting at Fan fair, she met and charmed a Curb Records executive and got a record deal on the spot.
With Gallimore and McGraw producing, Jo Dee gained attention out of the box with "Heads Carolina, Tails California" and "You're Not In Kansas Anymore." Her follow-up album, I'm Alright, exploded with its back-to-back-to-back chart-toppers "Bye Bye" (ASCAP's Song of the Year), "I'm Alright" and "Stand Beside Me" made her a star. Jo Dee won the ACM's Top New Female Vocalist award, the CMA Horizon award and the nod for Most Played Country Female of 1999 from Billboard. The Burn album entered the Country Albums chart at #1, went platinum and earned two Grammy nominations. Hits like "Lesson in Leavin'," "Because You Love Me," "Downtime," "Bring On The Rain," "That's The Way" and "My Give A Damn's Busted" would cement her reputation as one of country's most loved and enduring hit-makers. Along the way, Jo Dee earned a well-deserved reputation as an electric live performer, becoming one of the first women of country to mount a major headlining tour.
Jo Dee's drive is evident in her personal life as well. A dedicated runner, she has completed two marathons and still trains. "On the road, I'll get up and run, and since my steel player is training with me we run together," she says. "Then I go to the gym and lift weights, have lunch, do the sound check and then my meet and greet, do the show and get to bed as early as I can. No staying up late partying!"
Her marriage to Chris Deffenbaugh and the addition of their son, Noah Roger, in January 2009, is part of a life in which genuine comfort and happiness seem to be the main order of business. Balancing motherhood and her career is a challenge she is facing head-on with a joy befitting the situation.
"My guard is kind of let down a little," she says. "I'm a little more vulnerable because I am in a safe place. And it's not just my personal life, but me as a person. I've just grown. I've realized that I can only be who I am. I was married to my career for years," she says. It came first. It came before birthdays, it came before weddings and funerals, and it came before everything. A couple of years ago I said, 'Wait a minute! This garden needs some tending. The most real thing in my life is relationships.'"
For Jo Dee, it's now about balance and living life to the fullest.
"I'm a work in process," she says. "I am constantly learning. I'm constantly growing. You're always evolving and it never ends. You're never, 'OK. I'm done. I've figured it all out.'"
That sense of exploration has always gone into her art, and it infuses the Unmistakable trilogy..
"In the midst of your creativity is when you're most in tune with God. There is a creative rebirth on these records, and it came so effortlessly. I can't wait for people to finally hear them."