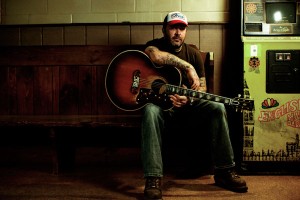 Country music comes naturally for Aaron Lewis.
In fact, the Staind frontman never strayed very far from country. It's something that he grew up with. It's something that he comes back to. It's something that inspires him. It's something that's in his blood. Hints of that are present in the stripped honesty and acoustic melodies of Staind hits such as "Outside," "It's Been Awhile," and "So Far Away."
However, Lewis fully shows that spirit on his forthcoming five-song Town Line debut solo release for Nashville-based Stroudavarious Records and, most prevalently, via its first single, "Country Boy." With a little help from legends Charlie Daniels and George Jones as well as genre stalwart Chris Young, Lewis tells his story like never before on the song.
Debuting in December 2010, "Country Boy" serves as a fitting introduction to Town Line, which hits shelves in early 2011. Lewis's voice carries a catchy chorus over a slide guitar, and he opens up about his past, present, and future. Featuring a fiery fiddle lead from Daniels, a booming verse from Jones and Young's lilting harmonies, "Country Boy" strikes a balance between classic and modern country.
About "Country Boy," Lewis exclaims, "George Jones and Charlie Daniels are two of the genre's legends, and Chris Young represents the new regime. It's definitely a personal, autobiographical song, and I'm very thankful that they all participated."
Their participation formally announces Lewis's arrival in Nashville with a bang. The song's music video is an event in and of itself. Not only does the video feature Jones, Daniels, and Young in the studio, but it also draws from Lewis's own family archives, giving a glimpse into his youth, home, passions, and so much more. "The video really is me. This is probably the most I've ever participated in any video that I've been involved with. I added a lot to the mix to tell the story."
"Country Boy" is simply the beginning though. As a whole, Town Line signals the next evolution for Lewis. He went back to his roots, and the results are as powerful and poignant as anything that he's committed to tape.
Growing up in rural Vermont, the singer/songwriter spent summers with his WWII veteran grandfather hunting and fishing. During that time, he developed a love for the land, the woods, and the simple life, which still permeates everything he does. There was one specific soundtrack to those times though.
"Country was the background music to my childhood," Lewis recalls. "My grandfather listened to Merle Haggard, Hank Williams, Hank Williams Jr., and all of the greats. When Staind did our first tour with Kid Rock in 1999, I rode the bus with him on a couple occasions and we bonded over this music. I haven't been able to let go of it since then."
Listeners won't be able to let go of the songs on Town Line either. Lewis recorded his latest offering in Nashville during early 2010, and it brandishes the singer's trademark style and a distinct country soul. Produced by Grammy Award-winning James Stroud and Lewis, this collection proudly sits alongside Lewis's numerous accolades. With Staind, he crafted the most-played rock song of the decade, "It's Been Awhile," sold 13 million albums worldwide, had four consecutive top 3 debuts on the Billboard 200, and released multiple cross-format radio hits. However, listeners haven't heard him like this until now.
In terms of songwriting, Town Line was an organic progression for Lewis. "The country accompaniment naturally complements my acoustic guitar playing," he says. "These songs are country in the sense of classic Americana. They're simple, understated, and founded on quality songwriting. If you put a country accompaniment to any of the songs that I've written over the years on my acoustic, all of them would work as country tunes. When a song comes from an acoustic, it can go in any direction you want it to go. I always write and play the same way. The only difference here is the accompaniment."
That accompaniment seamlessly blends with Lewis's unique voice. One song, "Massachusetts," builds from a poetic visual of Lewis sitting on his front porch into a love letter for his home state. The song paints a vivid picture of the tranquility the singer still finds in the Northeast.
"I live in the sticks of Massachusetts," smiles Lewis. "I wrote the song sitting on the front steps of my house. In the spring, the peepers get so loud outside. When they come out, they bring on the night. It's chilling and familiar, and I've heard that sound my whole life. That's how I know I'm home."
Then there's "Vicious Circles." It's a hauntingly beautiful tune that's simultaneously hypnotic and heartfelt. "It's a little more on the personal side of things, and it discusses the ups and downs of a relationship," he reveals. "I started messing around with something during a sound check, and the next thing I knew, it turned into this song. That tends to happen a lot."
In addition, Lewis re-recorded "Tangled Up in You," the stand-out ballad from Staind's sixth album, The Illusion of Progress. "Tangled Up in You" immediately lent itself to country stylings. "The song was already a little bit country in term of its flavor with the slide guitar and the pedal steel," he says. "We brought it further down that road."
Stroudavarious Records also proved the perfect home for this project. Lewis instantly bonded with producer and CEO James Stroud, and they've crafted something very special that goes even deeper than the songs.
He goes on, "A lifetime friendship was formed between James and I while we were doing these songs. As the head of the label and producer, he possessed an incredible amount of faith and belief in this project. It just made sense on so many levels."
"We just immediately developed a very intense musical and personal connection," echoes Stroud. "I'd always loved the expressiveness and intensity of Aaron's voice, but from the very first day in the studio, we hit it off in an entirely special way."
Ultimately, Lewis is giving listeners something that he always does. There's a tangible honesty to each of these five songs, and he opens up with every guitar chord and lyric.
Lewis concludes, "I've always stayed true to how I feel in my songs. I love this country, and I feel like I've gotten to live the American dream. I'm genuinely blessed to have this opportunity, and I'm glad to celebrate that classic country spirit with this new music."
That's why this music will live on forever; just like everything else Aaron Lewis has done. —(Rick Florino, October 2010)