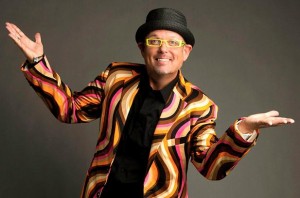 Parody singer-songwriter Cledus T. Judd has signed to Warner Bros. Nashville, and will release his first major label single in nearly a decade on DATETK. "Double D Cups," an uproarious answer to Toby Keith's smash hit "Red Solo Cup"—with an obvious tweak in subject matter—is exactly the kind of instantly memorable and quick-witted track his legions of fans have come to expect from Judd, often called the "Weird Al" Yankovic of country music. "There ain't a redneck in America that won't sing along with 'Double D Cups,'" Judd laughs. "I've bought several pair myself, you know."
The new single marks Judd's return to the spotlight after several years out of the public view, and it finds the good-natured funnyman primed and ready. "I hope the new fans who didn't get to see me the first go round will join me," he says of his relaunch into the internet age, which should prove incredibly fertile for Judd's style of retweet-ready musical comedy. Thanks to an extensive catalog of ridiculous parody videos already available on YouTube, he's noticing a crop of fresh teenage followers—and in fact, Judd estimates he may have accumulated at least 60 fans over the past 15 years. "I know that's pushing it," he warns. "Don't laugh."
Too late. People have been laughing along with Cledus T. Judd for a long time.
Oddly enough, Part One of this Georgia native's career started on the most sincere of notes: with a promise to his mom that one day, he'd introduce her to Vince Gill, the man with the prettiest eyelashes she'd ever seen. Fueled by the desire to make his mother's dream come true, Judd – who was dead broke at the time, living in a double-wide and working as a hairstylist – took a stab at the local open mic. "There was a guy the first night putting $10 bills in my tip jar," he remembers. "After I'd sang two songs, I'd made more money singing than I did cutting hair, and I said, 'Well, if I can make this kind of money singing this badly, I'm gonna get into this business!' The guy said, 'I was giving you money to shut the hell up!'"
Instead of shutting up, Judd packed his life into a $400 Toyota truck (a present from mom) and headed to Nashville to pound the pavement, play the clubs, shake the hands, and somehow get noticed. He competed in Amateur Nights, sleeping in hotel rooms if he won, bedding down in the truck if he didn't. He crashed for a while in a friend's walk-in closet, he showered at the YMCA; he paid his dues like every other hopeful in Music City. And little by little, he made his mark. "I just did whatever I had to do to survive," he says. "I didn't know any different, so hell, I just done it. And it really paid off."
In 1995, Judd released his debut album, Cledus T. Judd: No Relation, kicking off a career that spans nine studio albums and boasts over two million records sold. His first video, "If Shania Was Mine" (his take on Shania Twain's "Any Man of Mine") won CMT's 1996 Independent Video Of the Year award, launching his reputation as a must-see video star—before the phrase "viral video" had even entered the lexicon. The success just kept coming: 1996's I Stoled This Record was certified gold, 1998's Did I Shave My Back For This? hit the Top 20 on the country album charts, and he cracked the country singles chart for the first time in 2000 with "My Cellmate Thinks I'm Sexy"—a timely take on an unfortunate incident in which Kenny Chesney and Tim McGraw got arrested for stealing a law enforcement officer's horse.
Judd's tireless hard work and kind, outgoing nature led to collaborations with some of the biggest stars in country music—including, yes, Vince Gill. (Mama Judd got a limo ride to that video shoot; Judd is a man who keeps his promises.) His albums and videos have featured guest performances by everyone from Buck Owens to Brad Paisley, and he hit the road as an crowd-pleasing opener and emcee for acts like Brooks & Dunn, the Dixie Chicks, and Toby Keith—skewering their music along the way, of course, as when Keith's megahit "I Love This Bar" gave Judd his highest-charting single to date, 2004's "I Love NASCAR."
Needless to say, succumbing to Behind The Music-style cliché was never part of the plan.
It was in the late 2000's that Judd's fortunes started to fade. He'd found fame on television—CMT's Most Wanted Live, Nashville Star—and hosted a popular morning radio show in Tampa, which he transferred to Atlanta with significantly less success. That's when the bottom fell out. "I'll be honest with you," he says now. "I made some bad decisions along the way. I got fired from my radio show, I wasn't touring, I was really struggling, and I got to the point where I thought, 'Okay, if I just make enough to pay my bills and child support I can sleep in the car, I can put me a sleeping bag in there, I can take a shower at the radio station…" Judd trails off as he considers just how much this chapter of his life sounds exactly like those days when he was fighting to make his name in Nashville. "I'm telling you, it might have been harder to do it this time than it was the first time," he says. "The first time I didn't know any better. The second time I knew every mistake I made."
The sincere truth, Part Two: If the legend of Cledus T. Judd started with a promise to his mom, his rebirth will have come thanks to a conversation with his 7 year old daughter, Caitlyn. "I said, 'I think Daddy's getting ready to quit singing,'" remembers Judd. "'I tried to make you proud of me, and I tried to show you I was not a quitter, but I'm really thinking I just want to be a daddy for a while.' And she said, 'Okay, here's the deal. If you wanna sing, I'll just come to wherever you're singin' at. You're still gonna be my daddy whether you sing or you don't. And I'll still come watch you sing because I think you're funny.' When she said that, that's when the second round of the journey began."
Judd got back on the radio with a 2010 return to the morning airwaves at WQYK in Tampa/St. Petersburg, Florida, and alongside partners Dave McKay and Veronica, he's just been nominated for a 2012 Academy of Country Music Award as Major Market Personality. He gained some positive momentum thanks to "She's Going Places," a charity single he co-penned with Rascal Flatts' Gary LeVox—a moving tribute to Caylee Anthony that was subsequently covered by R&B star Brian McKnight. Finally, Judd dropped 100 pounds from his formerly fat-is-funny frame, in part due to a stint on Celebrity Fit Club. "I went from the double-wide to the single-wide," he jokes. "It's a different look for me."
And since that conversation with his daughter, Judd says, he's been "writing my ass off," calling in every favor and friendship he'd made over his 15 year career. Just like the first time around, faith and hard work led to an opportunity with Warner Bros. Records, who will release Judd's tenth studio album later this year. First single "Double D Cups" is just the latest in a long line of memorable country songs calling out for Judd's unique tweak. "I don't know why my brain works that way," Judd says of his comedic talents, "but the minute I hear 'em, it just pops into my head."
Other targets on the upcoming still-untitled release are likely to include Brad Paisley's "Camouflage" ("My Garage"), an updated take on "I Love NASCAR" for 2012 (including, of course, Danica Patrick), and a recession-perfect take on Miranda Lambert's "The House That Built Me" ("The House That Broke Me"). He's also flexed his muscles as a straightforward singer-songwriter, and hopes to include "104 Amanda Street" – a sweet tribute to his daughter's childhood home – as a bonus track. "I don't wanna be just a one trick pony," he says. "I want to be able to do it all."
Is it possible for a parody singer to pack an emotional punch? If nothing else, Judd hopes his tale of overcoming adversity will be an inspiration. "Other people have the same stories," he says. "I want to be an example. I want them to look at me znd go, 'Damn. If that guy didn't quit, I ain't gonna quit.' That is my sole reason for doing it," Judd concludes. "Just because I'm funny and I do that for a living don't mean that people can't look at my story and emulate it."
And if that's not enough, he says, "I do feel like I can sell out any Waffle House in America. I've got a pretty big following in them Waffle Houses."