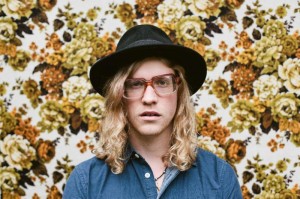 USA Today has called Allen Stone a "pitch-perfect powerhouse" and The New York Times has likened his socially conscious music to that of Stevie Wonder, Marvin Gaye, Donny Hathaway and Bill Withers. But the 25-year-old singer-songwriter from the tiny backwoods town of Chewelah, Washington just sees himself as "a hippie with soul".
One look at his long, curly blond hair and thick-rimmed glasses brings home the first part of that equation—and perhaps leaves one unprepared for the raw, soulful power unleashed when Stone opens his mouth to sing.
Like many soul singers, Stone got his start in church. He was a preacher's kid, so whipping crowds into a call-and-response frenzy as he performs "Say So" is second nature. Steeped in gospel music and shielded from secular songs, Allen didn't discover soul music until he was a teenager and started collecting classic albums from the 60′s and 70′s.
"Soul music from that time wasn't just about bumpin' and grindin' at the club—it was a huge part of a cultural movement. That's where my inspiration comes from," says Stone, who was also schooled by folk records of the period.
On his new album, Stone shines a light into some of the darker corners of his own era. "Contact High" is a striking commentary on the toll technology has taken on relationships and the sensuous sounding "Unaware" is a sly examination of the current economic crisis. This is the kind of stuff that keeps Stone up at night and keeps him on the road, as he sings in the single "Sleep": "Spend my night shootin' at the stars/Trying to change the world with this guitar/I know it's a long shot/But it's working out so far"
While he is in awe of music's power to ignite change, Stone is equally enraptured by its ability to simply make people feel good—as evidenced by songs like "Celebrate Tonight" and "Say So" and the dance-offs that are de rigueur at his shows.
Stone has spent the past four years honing his unique style the old-fashioned way: crisscrossing the country in a van with his ace band and playing any small club that would have him. Since the digital release of his self-titled album via his own stickystones label in October 2011, Stone's shows have been selling out from coast to coast. The album jumped into the Top 10 of Billboard's Heatseekers chart and entered the Top 5 of iTunes' R&B/Soul charts. His first national television appearance—on "Conan"—came after the music booker saw a YouTube video of Allen performing "Unaware" in his mother's living room. Performances on "Jimmy Kimmel Live", "Last Call with Carson Daly" and "Live from Daryl's House" followed and Esquire, CNN and Billboard named Stone as an artist to watch—all before he had the support of a record label. Stone has since signed to ATO Records, which is bringing the album into wide release.