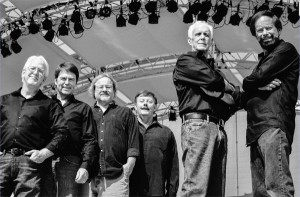 Don Dannemann and Mike Losekamp, two original members of the Legendary 60's band The Cyrkle, best known for the hit songs "Red Rubber Ball" and "Turn Down Day," have decided to reunite, add a couple of new members, and reinvent themselves around the 50th anniversary of the bands success. Coupling extraordinary musical talent and legendary music, The Cyrkle promises to electrify fans today just as they did when they were the opening act for The Beatles (Yes, THOSE Beatles) in 18 concerts in 1966.
They were the Beatles opening act on tour dates including August 23, 1966 at Shea Stadium, as well as August 29, 1966, for the Beatles' famous final concert at Candlestick Park. If you were moving and grooving to the Beatles and the English Invasion in the mid 1960's, then you are no doubt familiar with the music of the few bands to open for the greatest group of all time.
Earle Pickens and Tom Dawes formed the band as the Rhondells at Lafayette College in 1961. They soon added Don Dannemann and drummer Jim Maiella. In 1963, Maiella was replaced by Martin "Marty" Fried, and it wasn't long before they became one of the most popular bands on the East Coast. This led to them being noticed by a couple of very influential men in the world of rock music.
While playing at a club in Atlantic City on Labor Day 1965, they were heard by New York attorney Nathan Weiss, who happened to be the business partner of none other than Brian Epstein, the famous manager of the Beatles. Weiss urged Epstein to see the band and offer to become their manager. The, rest, as they say, is history. With one small exception, that is. John Lennon himself, after hearing the band's name, suggested a new one, with a unique spelling, and the Rhondells were re-christened THE CYRKLE.
In 1966 the band recorded their first album, Red Rubber Ball, which produced the Billboard hit song, "Red Rubber Ball" selling over one million copies and certified Gold. The single "Turn Down Day" was a solid hit as well, becoming their second Top 20 song of the year.
Later in 1966, Earle Pickens decided to pursue his dream of going to medical school and was replaced by keyboardist Mike Losekamp. The band then recorded their second album Neon. 1967 found them on the soundtrack of a motion picture The Minx. After releasing several more singles in '67, the band decided to go their separate ways and disbanded that same year.
Dawes and Dannemann then became professional jingle writers, with Dawes penning such classics as the world famous Alka-Seltzer jingle, "plop plop fizz fizz" and the original 7 Up "Uncola Song" and Dannemann writing classics for Swanson Foods and Continental Airlines. Dawes wrote a number of other songs, such as "Wild Cherry", which was recorded by Foghat. He also produced two of their albums, Rock & Roll in 1973, and Energized in 1974.
After reforming in 2016, The Cyrkle will be seeking out venues that offer music of the 60s and later, targeting lovers of older music and anyone that appreciates what is truly the Golden Era of Rock Music. They will be playing such diverse venues as Festivals and Fairs, Theaters, Packaged Classic Band tours, and Classic Rock n' Roll Cruises.
The Cyrkle will be playing their own mega hits, plus favorite tunes from the Classic 60s, but will also add a few new songs they have written especially for this new incarnation. They will also include a tribute to the music of several other Brian Epstein managed groups, which will round out their performances with even more legendary music.
The two original members of Cyrkle, Don Dannemann and Mike Losekamp, will be joined by Pat McLaughlin on lead vocals and rhythm guitar; Mike "Roscoe" Rousculp on lead vocals and bass guitar; Don White on lead guitar and vocals; and Scott Langley on drums and vocals. The new additions are all veterans onstage, and each brings a unique and individual style to the show that is sure to delight the most diehard music fan.
Much to the delight of classic Rock n' Roll fans, The Cyrkle is poised to emerge on the scene of classic music venues in the coming months and will bring all their talent to the stage in shows that are sure to breathe new life into old music and renewed interest in songs that have never lost their popularity.