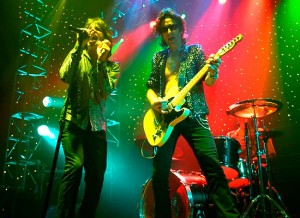 Satisfaction is the international touring tribute show dedicated to the "World's Greatest Rock & Roll Band". This glamourous show has been touring since 2001 with over 1600 performance dates to its credit. It is the only full time touring show of it's kind in the world. This highly acclaimed production showcases the most authentic cast and costuming audiences have ever witnessed. The likes of Mick Jagger, Keith Richards and supporting cast bring a colorful performance to over 50 years of classic hits.
They've been featured in dozens of national newspapers, magazines and television ads as the greatest show ever honoring the Rolling Stones.
In 2010 the show received their highest accolades ever, as they were approved by The Rolling Stones to perform long term engagements annually with the Walt Disney Corporation.