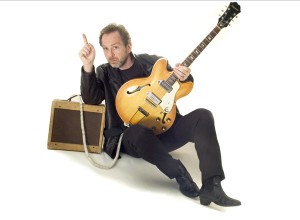 ONE-HIT WANDERER is a one-man-show written and performed by veteran singer, songwriter, recording artist, actor and comedian Henry Gross. On the surface it's an autobiographical look at his career in the music business. A closer look reveals a story of hope, perseverance, commitment, laughs, tears, disappointments and triumphs.
Born on April Fools Day, 1951, in Brooklyn, NewYork, Henry began playing clubs at age thirteen with his first band. Before long he was performing at the 1964 World's Fair and spending summers honing his skills at Catskill Mountain resorts. Encouraged by his mom, also a gifted musician, and Gil Hodges, the all-star first baseman of The Brooklyn Dodgers who lived in the neighborhood, Henry's career rose to amazing heights when, in 1969, during his first semester at Brooklyn College, he co-founded the 1950's Rock & Roll revival band "Sha Na Na" and that summer became the youngest performer at "The Woodstock Festival."
Leaving the group to record on his own, he made over a dozen critically acclaimed albums for the most prestigious labels in the world highlighted by his classic A&M Records LP, "Plug Me Into Something" in 1975. In 1976, he received a gold record for his worldwide hit "Shannon," a song inspired by the death of Beach Boy's lead singer CarlWilson's Irish Setter! He's shared the stage with some of the greatest artists in rock-and-roll history, including Aerosmith, The Beach Boys, Ricky Nelson, Mark Knopfler, Billy Joel, The Byrds, Poco, Bruce Springsteen, Joe Cocker, Chicago, The Doobie Brothers, Fleetwood Mac, Huey Lewis, Hall and Oates, Felix Cavaliere's Rascals, B.B. King and The Kinks.
As an actor, he starred in the road company of the Broadway hit PUMP BOYS AND DINETTES with the legendary Nicolette Larson (It's Gonna Take A Lot Of Love) and Jonathan Edwards (Sunshine). For the past several years, Henry has been constantly writing and recording critically acclaimed CDs including NOTHING BUT DREAMS, I'M HEARING THINGS, ONE-HIT WANDERER, FOREVERLAND, and RHYMES AND MISDEMEANORS. "One HitWanderer," is a celebration of life and re-invention that will charm audiences of all ages. Henry's working his way back to the top, keeping in mind his mom's words of wisdom: "The Impossible Takes A Little Bit Longer!"