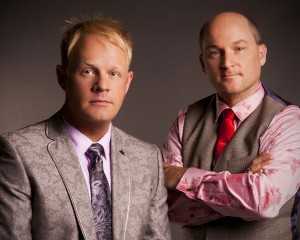 Jamie Dailey and Darrin Vincent had all the qualifications to develop one of the most entertaining shows taking stages today, so they did. The Dailey & Vincent partnership become one of the most applauded acts in the bluegrass community only a year after forming.
Five years later, they have continued the climb to become one of the most sought after acts in the genre. An act whose star power, have led to performances and collaborations with some of the greatest talents, on some of the biggest stages, exposing their music to hundreds of new fans each week.
Individually, they each draw from a musical upbringing, stints with prominent artists and celebrated recordings. Their combined expertise has made Dailey & Vincent an esteemed act, receiving over 30 Awards and named IBMA's "Entertainers of the Year" for three consecutive years.
A live Dailey & Vincent performance has something for every fan, featuring exceptional vocals, harmonized with an unexpected range of material and backed by the skillful musicianship bluegrass is known for.