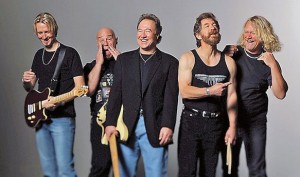 Stu Cook and Doug "Cosmo" may not have intended it, but their band Creedence Clearwater Revisited has taken on a startling life of its own. The Rock and Roll Hall of Fame rhythm section (bass and drums respectively) from the legendary group Creedence Clearwater Revival launched the Creedence Clearwater Revisited project in 1995 to once again perform live Creedence Clearwater Revival hits touchstones of a generation. Though the pair initially only planned to play private parties, Creedence Clearwater Revisited now performs up to 100 shows a year and released the album "Recollection."
"We never really had any intention of playing for the public," says Stu. "But a friend wanted to promote a couple of concerts. We got talked into it, but didn't know how it would go over."
Since then, the reaction to Creedence Clearwater Revisited's concerts has been astounding, and driven in part by a generation of kids who, as Cosmo says, "weren't even born when the music came out." Likewise, the release of a doublelive CD on Universal's Hip-O Records label, which features passionate, authoritative version of 22 classic hits was the result of public demand. "It was generated by requests of the people who came to the shows," Stu acknowledges. "Over and over they would ask, 'do you guys have a CD?'" Creedence Clearwater Revisited's "Recollection" has proven so popular that in 2008 the RIAA certified it Platinum.
Having now toured North America, South America, Central America, New Zealand, Australia, Europe and Asia, knocking out audiences with astounding concerts jam packed with songs that are still a staple of radio and movie soundtracks, Creedence Clearwater Revisited has come a long way. "In the beginning Cosmo and I decided that if we could find the musicians that could capture the sound and recreate what the music was about, we'd do it," recalls Stu.
As fans who have experienced a Creedence Clearwater Revisited concert can attest, Stu and Cosmo found the right players. Lead singer/rhythm guitar player John Tristao, a powerful tenor with the energy to power songs, initially rose to prominence as lead singer for the band People when their hit "I Love You" bulleted into the top ten. The newest touring member of Creedence Clearwater Revisited is lead guitarist Kurt Griffey. As a guitarist, song writer, producer and performer, Griffey has recorded and toured with musicians including members of the Eagles, Foreigner, the Moody Blues, Wings, Lynyrd Skynryd, Santana, and Journey. Talented multiinstrumentalist Steve Gunner rounds out the group. As Cosmo puts it, "Gun provides live all the overdubs that were on the records. He plays keyboard, acoustic guitar, percussion, harmonica and sings the high harmonies."
Stu and Cosmo and their band Creedence Clearwater Revisited add a new chapter to their legacy with vibrant and exhilarating energy and pure American spirit. As the Hollywood Reporter's music critic John Lappen wrote about a Creedence Clearwater Revisited concert in Los Angeles, "Their set was an amazing list of hit after hit that was done serious justice by the players involved. If anyone in the cheering crowd was disappointed [anyone] wasn't there, they hid it well behind their big smiles and whoops of joy at hearing live some of the best American rock ever written and recorded." "People don't want to be involved in an endless debate," Cosmo sums up. "They want to hear the music." And Creedence Clearwater Revisited always delivers.