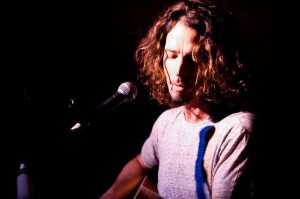 Chris Cornell is a rock icon who thrives on contradictions. An innovator who resists genre labels, he was nonetheless the chief architect of the 90s grunge movement. Ranked as "one of the best voices in music history," he has successfully maintained his own unique identity over more than two decades as a multi-Grammy award winning musician, Golden Globe nominee and universally acclaimed singer, songwriter and lyricist.
Seattle trailblazers Soundgarden were a law to themselves, edgy, dark and deeply individual. Their savage soundscapes, coupled with Cornell's incisive lyrics and predatory roar, seduced audiences hungry for musical depth and complexity while leading trends in street fashion and iconic design. In 1989, they became the first Seattle band to sign to a major label Their sound continued to change and evolve over the course of five pioneering albums.
Celebrated side project Temple of the Dog had already shown Cornell's more soulful side and introduced future Pearl Jam frontman Eddie Vedder to the world. Later, Cornell shocked the business once again with richly melodic, critically acclaimed solo album "Euphoria Morning," swiftly recognized for its alienation and despair. As the millennium turned, he joined with three other musical pioneers from Rage Against the Machine to create Audioslave, a multi-platinum, multi-Grammy nominated supergroup. On May 6, 2005, Audioslave played a free show in Havana, Cuba for over 50,000 people, becoming thefirst American rock group to perform an open-air concert in the socialist republic of Castro's Cuba. Rather than making a political statement, the trip was conceived as a musical cultural exchange with the joint authorization of the United States Department of Treasury and the Cuban Institute of Music. Cornell commented: "Hopefully, this concert will help to open the musical borders between our two countries."
Over three solo studio albums, Cornell has continuously redefined his sound and vision to encompass new music, new collaborations and new activities. Having contributed solo songs to movie soundtracks for "Singles" and "Great Expectations" to "Mission Impossible II," he became the first and to date, only American male artist to be commissioned to write, record and perform the theme song for the James Bond franchise with "Casino Royale." At the royal reception and premiere in London, Cornell was presented to Queen Elizabeth II. He has also had the honor to perform at the Kennedy Center Honors Gala in Washington DC, as well as in front of three United States Presidents.
Soundgarden made a historic return to the live stage in 2010. The band has since released retrospective album "Telephantasm" and "Live on I5″, taken from archive recordings of their 1996 US tour and a new studio album, 'King Animal' was released on November 13 this year.
In January 2011, Cornell announced his solo acoustic Songbook tour, following on from a series of acclaimed solo acoustic shows in Los Angeles. The sold out tour of the US, Canada, Australia, New Zealand and South America received universally positive reviews. As Jim Farber of The New York Daily News observed, "sometimes you don't recognize the full power of a voice until you strip everything away from it." Performances from the tour feature on Cornell's 2011 live album, Songbook.
As an innovator, Cornell forged the first-ever multimedia partnership between an artist and a commercial airline, Virgin America. As he has continued to evolve as an artist, Cornell has also evolved as a humanitarian through his passion for philanthropy and community, saying: "I'm in a fortunate position to use music to support important causes that help foster change." Cornell has been an active supporter of the Make A Wish Foundation, Stuart House and MusiCares.
In 2010 Cornell became closely involved with the Fulfillment Fund, a college-access and mentoring organization, and he and his wife have helped draw a whole new generation of mentors and donors to this cause. Chris's Dream benefit concert was successful in raising much-needed funds and the new Chris and Vicky Cornell Scholarship Fund will enable a qualified student to be selected annually for a special educational award.
In August 2011 Cornell helped raise awareness for Sam Childer's, Angels of East Africa children's charity with his song "The Keeper," written for the Marc Forster directed film Machine Gun Preacher. For the first 24 hours of release, the song was exclusively available as part of the "Donate to Download" campaign and a portion of the proceeds continue to go to the charity. The song is also the lead track on the film's soundtrack album and was nominated for a Golden Globe in January 2012.
Only the most confident would claim to predict exactly what comes next for Chris Cornell. Only one thing's for sure – he'll continue to break rules, make history and challenge expectations.