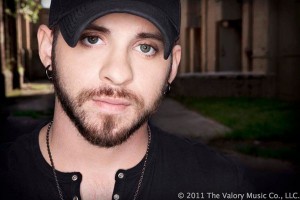 Stop and listen to any of Brantley Gilbert's lyrics and you know a little about him. Listen to his albums and you will feel like family.
Brantley Gilbert was born and raised in the small town of Jefferson, Georgia, just outside of Athens city limits. It is that upbringing and small town influence that Gilbert credits toward allowing him to cultivate his unique sound. Gilbert's taste in music always swayed toward a southern country rock feel, but his true-to-life testimony of heartache, trials, triumph, and success found a home in country music.
Gilbert's career began on the stage: Night after night, he played acoustic sets at various venues in his hometown and slowly began to notice familiar faces in the crowds. Gilbert soon realized that his acoustic shows — however intimate — didn't satisfy his audience's thirst for his rock-infused country music. "We went from these acoustic shows to a bona fide Country-Rock-Soul show that is wide open," says Gilbert. "Even when we play a ballad, it's high energy."
While on the road the past five years, Gilbert has built his brand through his compelling lyrics and dynamic live show – a combination that attracted a strong underground band of believers who shared Gilbert's passion for life and music; pretty soon his following had taken on a life of its own. As Gilbert tells it, "[W]e don't have fans, we have friends. I like to think that those people in the crowd are just like me. They listen to the songs, they get the meaning and get the purpose and they get something out of it." It is this rabid fan base that became the first members of what is now known as the BG Nation.
These dedicated fans and their insistence on new music from Gilbert encouraged him to bring his unique style to Nashville, Tennessee where he soon signed with Warner/Chappell Publishing and began to develop music for a debut album release on an independent record label.
On March 16, 2010, the rising star released his sophomore album, HALFWAY TO HEAVEN, the follow-up to his debut national release, A MODERN DAY PRODIGAL SON. The sophomore effort peaked at #2 on iTunes Country Album Charts, and at #1 on the Billboard Heatseekers Album Chart for all genres.
"The Best of Me," a song from Gilbert's first album was recorded by Country superstar Jason Aldean and earned a spot on his iTunes release WIDE OPEN. Then, in August 2010, Brantley's song "My Kinda Party," became a #1 smash for Aldean, as well as the title track to Aldean's platinum-selling album. The superstar's latest single, "Dirt Road Anthem," was also written by Gilbert. "It's an honor that someone like Jason would want to record one of my songs," says Gilbert. "It's a big step for me as a songwriter and I couldn't have asked for a better artist to perform the song. After all, he is a Georgia boy!"
As tour dates multiply throughout the South, Gilbert's fan base continues to expand. The rising star's Facebook post see views of 7 million a month and his MySpace page has garnered more than 16 million total song plays— a number that has brought him to the #1 spot on MySpace Music Charts for both Country and Southern Rock. He also continues to sell out venues throughout the country – proof that the BG Nation is relentlessly growing.
In February 2011, Gilbert passed another career milestone when he signed with Big Machine Label Group's imprint The Valory Music Co. — home to superstars Reba and Jewel as well as #1 chart-topper Justin Moore. Brantley Gilbert's first single on The Valory Music Co. debuted in the Top 40 at Country radio on its official impact date – an impressive feat by a new artist. Gilbert is currently in the studio with award winning producer Dann Huff working to finish his first album on The Valory Music Co. for a late summer release.
"I've realized that life can be very short, and everyone should take advantage of it," says Gilbert. "If you're gonna live, do something with it. Make it great."