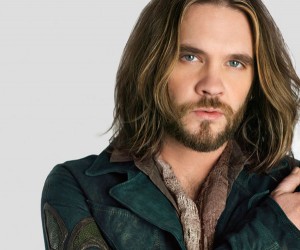 Known for his diverse vocal abilities, the songs Bo Bice is writing these days have put him in a new spot musically.
"My next record will continue to reflect my love of my country, my family' my faith and the emotional journey I'm on," he said during a recent interview from a recording studio behind his home that he shares with his wife and three young children. "I moved my family to Nashville six years ago and that change is now reflected in my music."
"I've always been a family man," Bice continued' referencing his feelings for his mother' a gospel singer who infused him with a love of music at an early age. "My mom remarried and moved our family to England when I was just a kid. But before I finished school, I knew I wanted to be in a band and I returned to Alabama to continue that process."
It was a hard decision to leave his mom in England, and he addressed it in "You Take Yourself With You," (a song that charted in the Top 20 on GAC's Video Countdown) from his 2010 release, 3. "D. Scott Miller and I wrote that song when we were just sitting and talking about the first time you leave home," he said. "He's older than me, but everyone has that same feeling when they take off."
The album 3 was Bice's first brush with the Nashville community, and all its songs were written or co-written by Bice, with production credits by Bice and D. Scott Miller (who's worked on hits by Trace Adkins, Patty Loveless and Asleep at the Wheel, among others).
"I'm really digging the Nashville scene and where it's taking me musically," he said. "It's a little different than what I was doing on previous albums, but Nashville represents many of the things that are important to me these days." After a few health scares stemming from life on the road, Bice has changed his lifestyle and enjoyed a clean bill of health for three years. "I'm more into being a good husband and father, and giving back to others, rather than just doing what feels good at the time," he said.
Now, instead of chasing wild times, Bice spends time helping fellow motorcycle enthusiasts raise money for medical research or supporting the military and their families. "I have a lot of respect for the troops and want to do all I can to create awareness of their needs, and support their families."
Backing up that claim, Bice found time to perform overseas for the troops in Iraq and Afghanistan. "You hear and see first-hand some of the devastating stories, but you also witness the blessing that these men and women are fighting for us," he said. "I just hope I'm lifting them up somehow." (Bice suggests checking out www.bobice.com to see how you can contribute). More recently, Bice arranged for all of his proceeds from the song "Long Road Back" to benefit those affected by the 2010 Nashville floods. He also won $50,000 on a special celebrity edition of VH1′s "Don't Forget The Lyrics," with proceeds being donated to the NARAS charity organization MusiCares, for use in its recovery efforts. Bice was the first celebrity contestant in the history of the show to win the grand prize.
Bice's career began to take shape when he worked the Southern club circuit in a number of bands, including Blue Suede Nickel, Purge and Sugar Money. Although the groups made some in-roads, his initial claim to fame came in 2005, when he finished 2nd to Carrie Underwood on FOX television's American Idol.
His first release following that show, The Real Thing, yielded the chart-topping single "Inside Your Heaven" and helped Bice attain the first of his two gold record awards.