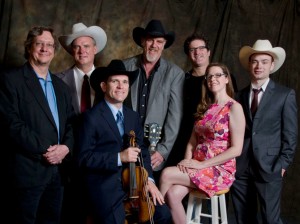 Since the early '70s, Asleep at the Wheel have been the most important force in keeping the sound of Western swing alive. In reviving the freewheeling, eclectic sensibility of Western swing godfather Bob Wills, the Wheel have earned enthusiastic critical praise throughout their lengthy career; they have not only preserved classic sounds that had all but disappeared from country music, but have also been able to update the music, keeping it a living, breathing art form.
Typically featuring eight to 11 musicians, the group has gone through myriad personnel changes (at last count, over 80 members had passed through their ranks), but 6'7″ frontman Ray Benson has held it together for four decades, keeping Asleep at the Wheel a viable recording and touring concern and maintaining their devotion to classic-style Western swing. (So much so that in 2011, Ray Benson was named Texan of the Year and received the Texas Medal of the Arts)
Singer/guitarist Benson was born Ray Benson Seifert and grew up listening to a variety of music in Philadelphia, especially jazz. He formed Asleep at the Wheel in Paw Paw, WV, in 1970, along with longtime friend Lucky Oceans (born Reuben Gosfield; steel guitar) and Leroy Preston (rhythm guitar). They soon added a female singer in Chris O'Connell, who was fresh out of high school. Initially, the group played straight-ahead country in local venues, but quickly switched to Western swing when they discovered the music through Merle Haggard (specifically his Bob Wills tribute album) and eclectic country-rockers Commander Cody & His Lost Planet Airmen. In fact, Commander Cody helped the group sign with his own manager, Joe Kerr, who convinced them to move to San Francisco in late 1971. They subsequently added keyboardist Floyd Domino, and secured a residency at Berkeley's Longbranch Saloon. Praise from Van Morrison in a Rolling Stone article helped them land a record deal with United Artists, which released their debut album, Comin' Right at Ya, in 1973.
In 1974, Asleep at the Wheel relocated to the roots music haven of Austin, TX, and also switched labels to Epic. Their self-titled label debut appeared that same year, and their cover of Louis Jordan's "Choo Choo Ch'Boogie" became their first single to hit the country charts. Afterwards, they added fiddler Lisa Silver and trumpeter Bobby Womack, and hopped labels again to Capitol. Released in 1975, Texas Gold was their breakthrough album, climbing into the country Top Ten and producing their only Top Ten hit on the country singles charts, "The Letter That Johnny Walker Read." That year they performed on the first non-pilot episode of Austin City Limits, and although they continued to experience personnel shifts, they turned out a string of excellent albums over the rest of the decade: Wheelin' and Dealin' (1976), The Wheel (1977), and Collision Course (1978), the latter of which featured their first Grammy winner in the instrumental cover of Count Basie's "One O'Clock Jump."
Asleep at the Wheel moved to MCA for 1980′s Framed, but all was not well: founding member Lucky Oceans left the group that year, and Chris O'Connell took a leave of absence to start a family not long after. Plus, the group was heavily in debt, forcing the bandmembers to work on commercials and movie soundtracks. The financial problems conspired to keep them off record for the next few years, and when they returned on Dot/MCA with a self-titled album in 1985, they were virtually ignored. Following the small-label release Pasture Prime later that year, Benson did some moonlighting as a producer, and soon managed to get a second shot with Epic. By now, O'Connell had returned, and the new lineup featured fiddler Larry Franklin, steel guitarist John Ely, pianist/accordionist Tim Alexander, saxophonist Mike Francis, bassist Jon Mitchell, and drummer David Sanger. This unit recorded the major comeback effort, Asleep at the Wheel 10, in 1987, which brought them back to the Top 20 of the country album and singles charts (the latter via "House of Blue Lights") for the first time in over a decade. Additionally, the album's "String of Pars" won them their second Grammy for Best Country Instrumental, and featured contributions from fiddle legend and onetime Texas Playboy Johnny Gimble. The 1988 follow-up, Western Standard Time, continued their momentum, winning another Best Country Instrumental Grammy for "Sugarfoot Rag."
In 1990, Asleep at the Wheel moved to Arista and recorded Keepin' Me Up Nights, which flopped in comparison to its two predecessors. Major personnel turnover ensued, with O'Connell leaving a second time, and Benson regrouped with Francis, Sanger, fiddler Ricky Turpin, bassist David Miller, and steel guitarist/Dobroist Cyndi Cashdollar. They issued two albums on Liberty/Capitol, the acclaimed, guest-laden A Tribute to the Music of Bob Wills and the Texas Playboys (1993; featuring the Grammy-winning instrumental "Red Wing") and The Wheel Keeps on Rollin' (1995). Their next major studio project, Ride with Bob, was released by DreamWorks in 1999 and featured fiddler Jason Roberts (a young relative of Johnny Gimble) and pianist/second fiddler Chris Booher. It was the group's second explicit tribute to Bob Wills, and it attracted even more positive attention than the first, winning multiple Grammys and drawing non-country collaborators like the Manhattan Transfer and Squirrel Nut Zippers. An album project with Willie Nelson, Willie and the Wheel, appeared in 2009, followed by It's a Good Day, a collaboration with Texas Playboy great Leon Rausch, in 2010. ~ Steve Huey, Rovi