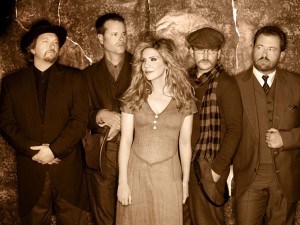 Alison Krauss' most recent triumph, the certified-platinum Raising Sand, her 2007 collaboration with Robert Plant and producer T Bone Burnett, notched up a total of six Grammy® Awards, including Album of the Year and Song of the Year, bringing her unsurpassed total to 26. That mesmerizing modern-day masterpiece sets the stage for another stunner: Paper Airplane, the artist's first album of all-new recordings in partnership with her remarkably skillful and renowned band Union Station since 2004's Lonely Runs Both Ways.
The players—Jerry Douglas (Dobro, lap steel, vocals), Dan Tyminski (guitar, mandolin, lead vocal), Ron Block (banjo, guitar) and Barry Bales (bass, vocals), with Krauss on lead vocal and fiddle—are five distinct personalities who come together to form something truly unique as a band. Each bandmate has his own bustling career, but when these singular musicians come together, they're an airtight unit devoted to the process of making music together. Indeed, their connection is so close and deep that they've come to think of each other as family.
Produced by Krauss and Union Station, with studio legend Mike Shipley engineering and mixing, Paper Airplane contains 11 songs of poignancy and austere beauty, chosen with the impeccable taste and unerring intuition that have characterized her entire body of work, delivered by this world-class unit with an immediacy that goes beyond mere virtuosity.
Throughout her remarkable career, which spans a quarter century, though she's only 39, Krauss has remained grounded and real. Deeply introspective as an artist, she's commensurately outgoing and spontaneous in conversation—both sides of her character evidencing a life-embracing humanity. In her work, Krauss has managed to consistently locate the fertile common ground between traditional modes and topical themes. On Paper Airplane, she and the band somehow managed to plumb the depths of Krauss' own psyche while also capturing the zeitgeist, so that this portrait of the artist doubles as a portrait of America as a whole at a crucial moment in its history.
The process that led to Paper Airplane had its own particular set of circumstances, at one point bringing the sessions to a dead stop when, for just the second time in her life, Krauss was hammered by a bout of migraine headaches. "There have been records that were tough to make, but this one took the cake," she says with a rueful laugh. "At one point, Dan said, 'I don't really know what to do unless you're jumping up and down because you love something or you hate it.' I make judgments based on how something makes me feel, and because I wasn't physically well, everything was kind of gray and nothing sounded right. So after we recorded a bunch of things, we took a long break, because it just wasn't working."
For the crucial missing piece, Krauss turned to her longtime go-to guy, songwriter Robert Lee Castleman. When she called him, Castleman lamented that he was in a dry spell and feeling uninspired, but he asked her to come over and sit with him and tell him about what was going on in her life. When Krauss walked in the door, he told her he had a melody. "What are you going to do now?" she asked him. "Wait," he answered. "It'll probably be here by midnight." Krauss stayed just long enough to make grilled cheese sandwiches and tell him what was going through her mind. A few hours later, Castleman called. "I got it," he said. "What's it called?" she asked. "'Paper Airplane,'" he answered.
"All I did was encourage him and share what was going on within myself," Krauss recalls of that memorable afternoon. "But I can't take credit for his gift. I had no hand in writing it—that was all Robert."
Castleman hit the bull's-eye, evidenced by the fact that "Paper Airplane" serves as the new album's title song as well as its opening track. What did this newly minted song express that was so right in terms of what she wanted to say?
"It represents a trial—like a trying time that has an end," she explains. "And that's what everything was to me on this record, including the Dustbowl tune [the Tyminski-sung "Dustbowl Children," written by Peter Rowan]. It's all about a span of time that's a trial. We didn't pick that as a theme; we found out what the theme was afterward. I was just following what was appealing, but wasn't conscious of what it was that was speaking to me. I don't have any preconceived notions; I don't know till it hits me."
Similar friendly persuasion on Krauss' part yielded the grown-up lullaby "Lie Awake" from her brother Viktor and lyricist Angel Snow. She also urged her friend and longtime musical colleague Sidney Cox, of Louisiana's Cox Family, to complete the seafaring saga he was working on, "Bonita and Bill Butler," about his ancestors' voyage to America, which captivated her, even in its unfinished state. She just knew it would be a natural fit with Tyminski's muscular, evocative voice.

"
Nobody can touch Dan when he's in his element," Krauss raves. "He always jokes, 'I'm an angry soldier, or I'm an angry farmer.' I was so jacked up on this song of Sidney's, and thankfully, Dan liked it. It's beautiful writing, and Dan delivered. I've loved his singing forever, but he went to a whole other place on this record."
She also selected a pair of classics in Jackson Browne's "My Opening Farewell" (from his self-titled 1972 debut album), which she'd learned from Michael Johnson's cover version, and Richard Thompson's "Dimming of the Day" (originally sung by his then-wife Linda on the couple's 1975 LP Pour Down Like Silver).
"I'd first heard 'Dimming of the Day' when T Bone Burnett played it for me three years ago, as we were going through material for Raising Sand, and I said, 'Oh, I can't do that'—I just couldn't go there at the time. But when we were gathering tunes for this album, I felt like I could. The funny thing is, I'd been thinking about it, and Robert Castleman called to tell me he had the most perfect song for me—it was 'Dimming of the Day.' And then, Jerry [Douglas] kept talking about this beautiful song he'd heard that we would love, but he couldn't remember the name of it. When the band and I sat together and listened to 'Dimming of the Day', Jerry goes, 'That's the song!' We thought it fit with the rest of the way things were on this record. " Does it ever.
"The day we cut the song in the studio, and hit the line, 'When all my will is gone you hold me sway,' I fell apart and had to stop. I said, 'It's so sad.' And everybody was so sweet—I thought they were gonna laugh and rip me apart. There was this big, long silence, and Barry says, 'Well, that's what you get for havin' a girl in the band.'"
In the end, making Paper Airplane was a revelatory experience for the band. "Whatever formula we thought there was doesn't exist," Krauss acknowledges. "It disappeared, especially this last time out. You can't trust your method; you can't rely on a method. The only thing you can do is record things that move you—that have a connection with you—and to represent yourself truthfully. Things have to be true that I sing or I can't do it. Whether I write them or not, they have to be true for me to say it, and for the guys to play it. The only recipe is if it feels true, and true may be incredibly sad. But that's the part that feels good, because it's truthful. It might not be true for anybody else, but it is for us. That's the recipe."
"I feel like this is the best environment for me," she says of working within the context of the band. Proof of that simple but telling statement resonates from every note of this musically exquisite, emotionally charged and, above all, utterly truthful album.