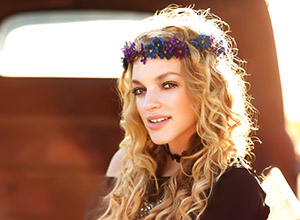 Alexis Gomez is much more than just another fresh voice for Country music. While she was known as the "Mexican, Hillbilly, Hippie" as a Top 16 Finalist on the hit FOX show American Idol (Season 14), she's much more than that, too!
If you have ever seen an Alexis Gomez concert live, her talent as a singer, songwriter, and entertainer is undeniable! According to, American Idol Net, "Alexis has this insane charisma and look about her that really commands an audience." Her stage presence, energy and star-like quality, combined with her powerful vocals, lets us all know that we'll be hearing more from this young lady soon!
First, let's rewind a little.. Alexis grew up in Dayton, Ohio and has been singing and playing music since she can remember. Her dad, brother, and sister are all musicians, so following in their footsteps was inevitable! As she got older, she joined the family band and before long, she was stealing the show. Her talent as a musician, along with her clean country vocals have contributed greatly to her success. But, it's also her songwriting that has been noticed and recognized in these last few years. She's won a number of local and regional contests where she's been given the opportunity to showcase some of her original music. In 2016, she was a Top 10 Finalist in the Nash Next National Contest, to find the countrys next rising Country Star. Alexis will tell you "Every opportunity has been so life-changing, and there is nothing I love more than performing live, but getting to play the songs that I write and see a crowd sing along… it's one of the best feelings ever!
Alexis' influences are all over country music, but her strongest role models are The Band Perry, Miranda Lambert, Taylor Swift, Martina McBride and Garth Brooks.You can definitely hear those influences from the first note Alexis sings!
She's also one of the Worship Leaders at SouthBrook Christian Church in Miamisburg Ohio, her home church since she was a child. She will tell you, "I work hard at this, but at the end of the day, I know this is a gift that God has given me. I always try to remember that and thank Him every chance I get!
Come see her for yourself and experience the energy and fun that Alexis brings to Country Music!