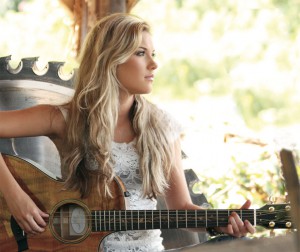 There's something very special about mountain soul. It's not a geographical spot on a map; it's a state of the heart. And it's at the core of Kaitlyn Baker's music. A proud native of Pound, Virginia, the young artist's sound is an intriguing reflection of her small town roots infused with a youthful edge that places Baker in a league all her own.
Baker made her first public appearance in church when she was just seven years old singing "Down to the River to Pray." The talented youngster soon became a popular regional artist, winning talent competitions and recording three independent albums before she turned 13.
Kaitlyn Baker's foundation is honest, relatable music that is rooted in faith, family and life experience. She possesses a voice that wrings every drop of emotion from a lyric and a heart that wants to connect with people through music.
It's a winning combination sure to take her far in the years ahead. "There's not a better feeling in the world if you look out in the crowd and see somebody sing along with your songs," she says. "It's really all that I've ever done my entire life. I've never had a backup plan. I've always known that this is what I'm going to do." …continue reading →