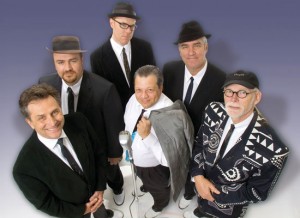 Join Phil Dirt & the Dozers on the ultimate musical journey. Travel back to a time when life was more simple and the cost of a new Chevy was about $2000.00. A time when poodle skirts, saddle shoes and the corner drug store were all a part of everyday life.
Phil Dirt & the Dozers' nostalgia show encompasses three decades of great music from the 50s to the 70s, and is performed with a sophisticated yet light-hearted approach that creates an atmosphere all age ranges will enjoy. America's premiere "Rock 'N R'oldies" review (and the most popular vintage rock and roll show in the nation) will help you recapture those wonderful days! With their musical talent, high energy and contagious sense
of humor, Phil Dirt & The Dozers will transport you to another time, filled with those fine falsettos and rich harmonies.